Smart IoT solutions for Safety and Surveillance Applications
---
Challenge
Security and Surveillance is a common facet of businesses. The advent of wireless sensor networks and their reducing cost opens new possibilities even to smaller businesses. However, the currently offered solutions are not distributed and require customization bringing the cost up again for Security and Surveillance solutions. Furthermore, human operators and 24/7 human interventions are necessary to Security and Surveillance processes making the current solutions prohibitive for wider adoptions. The industry is calling for customizable, distributed, low-cost, and automatic Security and Surveillance solutions.
---
Solution
Synaisthisi's security and surveillance solution integrates heterogeneous information flows via popular and open interfaces from sensors and systems in order to provide a comprehensive set of outdoor and indoor monitoring and safety capabilities. The solution relies on several different types of WSNs to provide for diverse coverage needs and support for specific data traffic types including video and audio streams. The information flows are suitably treated by processing elements which aim to recognize 'events' and create situational insights that can assist with the detection of safety violations (radiation leaks, fire) and surveillance needs (unauthorized access). Depending on the situation, the solution may inform a management console application for human intervention or decide to react in an automated fashion, i.e., attempt to exploit other information sources for a better assessment.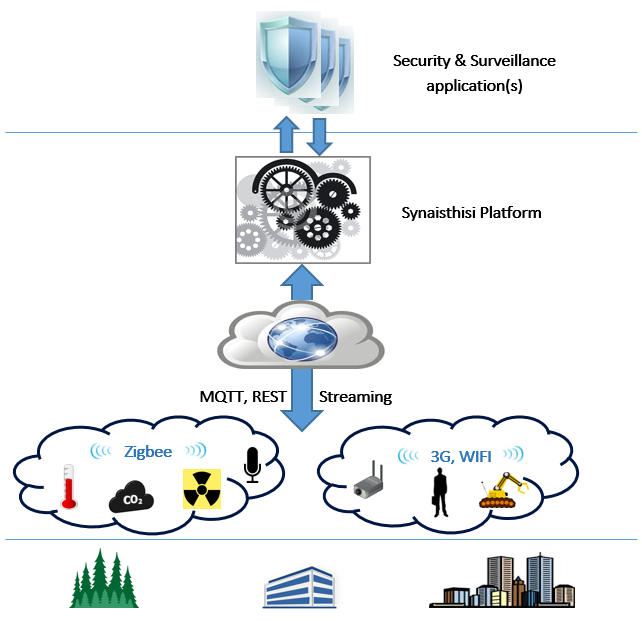 The prototype is being currently tested in and around the IIT institute of NCSR DEMOKRITOS. The sensors and other systems have been integrated with the Synaisthisi platformover Raspberry PI, TelosB and Arduino embedded platforms. Furthermore, the advantage of energy efficient and range extending antenna designs, e.g., directional and patch antennas for mobile and wearable applications, have been verified.

---
Competitive Advantages
Integrate new capabilities or modify your solution with ease and without disruptions to accommodate diverse or evolving safety and security requirements
Exploit the ability to interface seamlessly with several embedded platforms types and configure WSN operation through your application for greater control.
Create scalable and truly distributed solutions that can adapt to a wide variety of deployment needs.
Extended communication range and longevity of the system through the use of directional custom built antennas to suit various deployment needs.
Humans, sensors, systems, and multimedia data can cooperate in your applications to create rich capabilities.
---
Join our Partnership Network
---
Copyright © NCSR Demokritos 2015
---