Customer Profile
Businesses (Meeting rooms, Common areas)
Hotels (Conference areas, room management)
Universities & Schools (Dorms, Classes)
Consumers (Home automation & control)
Healthcare smart hubs
Benefits
Create energy efficient spaces that limit wasted electricity consumption.
Automate affordably your spaces for improved work and life standards.
Monitor spaces for safety and security.
Future proof your investment by easily integrating current and new devices and systems to your solution.
Build solutions that can scale from rooms to organization wide premises.
Creating Smart Spaces
---
Challenge
Automating, or making your space more intelligent, efficient and secure may currently require a high investment and lead to an inflexible system which cannot scale in the future. Thus, the challenge is to satisfy your needs by deploying an application that uses existent resources, creates comfortable environmental conditions, uses energy efficiently and monitors the spaces for safety and surveillance. Whether it is a home or a large organisation, customers want to address this challenge without significant capital and operational expenditures or limitations.
---
Solution
Synaisthisi's smart space solution allows customers to monitor their premises usage patterns, utilize resources efficiently to cover the needs of the users and finally provide programmable interventions that can enhance the quality of the living or working standards. The solution provides a manually override facility, on demand, through a web interface, offering remote control from a mobile device. Other features include security and safety related services that may be offered according to the requirements and needs of the customer. The solution can exploit a very wide variety of sensors to understand and interpret the situation of the space monitored and then react or preempt certain actions that are required to improve the experience for the user. Actuators effectively manage and control the resources of the space.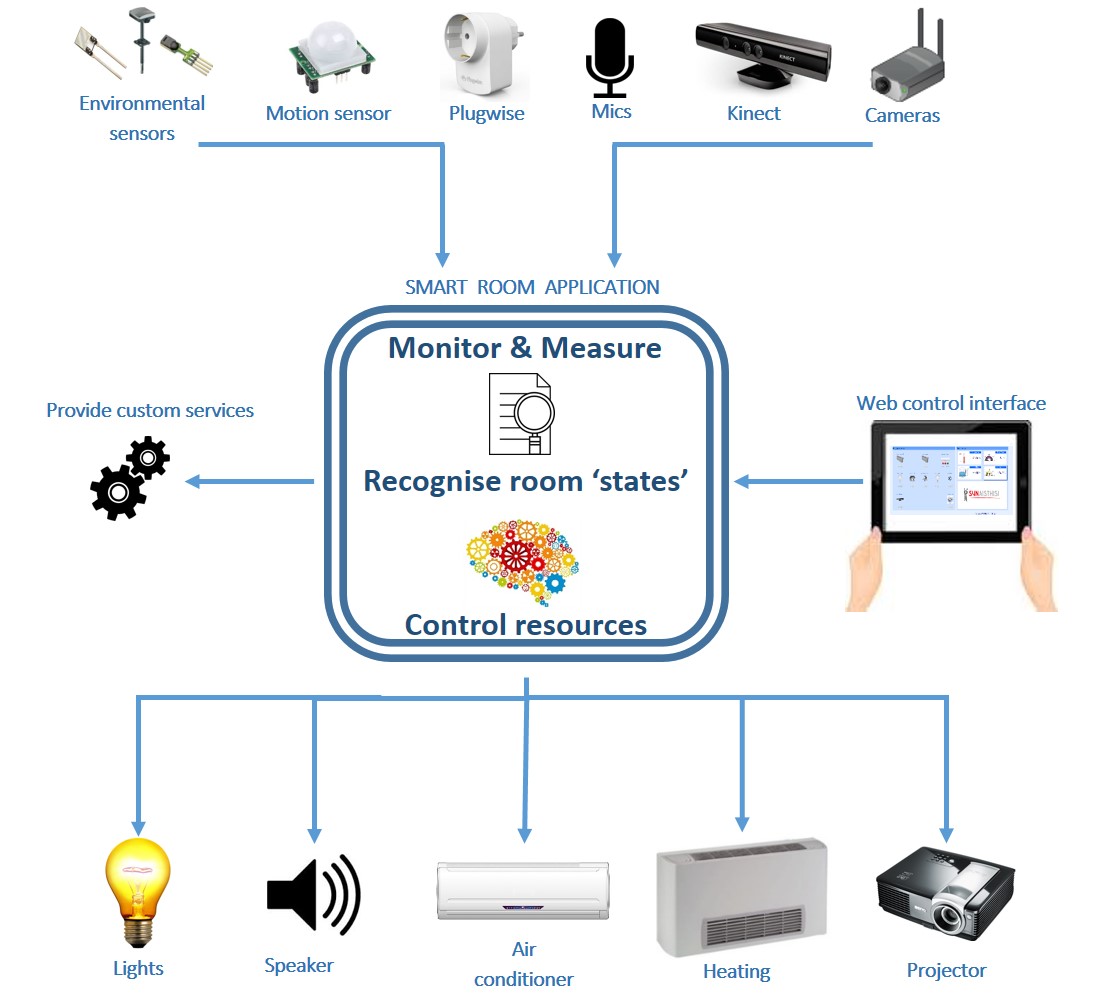 A current prototype manages the AIGAION meeting/lecture room at the IIT institute at NCSR Demokritos and has been in successful operation for several months. No significant investments were required and the room's assets (equipment) were reused by coupling them with off the shelf sensing and actuation components and connecting them to the Synaisthisi platform. Parameters measured include environmental conditions, energy consumption, people present as well as audio and video information. According to the 'state' and the use of the room, the application controls cooling/heating and turns on/off the lights. It detects the beginning of presentation and powers on the projector. At the end of a meeting it automatically shuts down the room and prepares transcripts of the meeting minutes. It also allows for live video and audio streaming and recording. The room is also capable of detecting potentially unhealthy conditions (high CO2 or smoke concentrations) and provides appropriate audio warnings.
---
Competitive Advantages
Explore the Synaisthisi service builder to compose customised applications.
Fuse multi-media data and discover the Complex Event Recognition approach.
Better understand your premises usage profile and manage them remotely, manually or in full automation mode.
Scale easily from small to very large spaces without the need for significant re-investment and avoid vendor lock-in and complications due to evolving needs.
Integrate sophisticated monitoring features on demand and effortlessly to your business premises.
---
Join our Partnership Network
---
Copyright © NCSR Demokritos 2015
---